Boost PHP Development by following 6 Top PHP Frameworks in 2015
PHP is a server scripting language and a powerful tool for making dynamic and interactive eCommerce Web site in modest bought.
What is PHP? : PHP is a generally-used, open source scripting language: PHP full form is Hypertext Preprocessor language.
Why PHP? : PHP has many advantages for famous in very little time as
PHP easily runs on various platforms as Windows, Linux, Unix, Mac OS X, etc.
PHP has supportable a large amount of My SQL databases
PHP is used almost all servers, Apache, IIS, My SQL, etc.
PHP is easy to learn in low time and runs competently on the server side
PHP is easily managed by a non technical user
PHP is the best way for creating a web site, web app and any web services in Low cost and Low time frame.
According the business news, 240 million of the websites Almost 50% of the web across the globe, including the USA, UK, Canada, India, Australia and all other English countries, are built in PHP.
The success of PHP in low time can be easily visited by the fact that all the most popular sites use PHP; Facebook, Google, Yahoo, and Apple are some of the examples. The Popularity of the PHP is its wide frameworks.
Todays PHP has almost more than 20+ frameworks and all framework has different different advantages & feature for providing a better result.
Here we focus on the best Supper six PHP frameworks which are used by top level development companies and have more requirement of the more clients.
1. Laravel Framework: Laravel is a free best open-source PHP web application framework which created by Taylor Otwell and intended for the development of web applications with MVC pattern.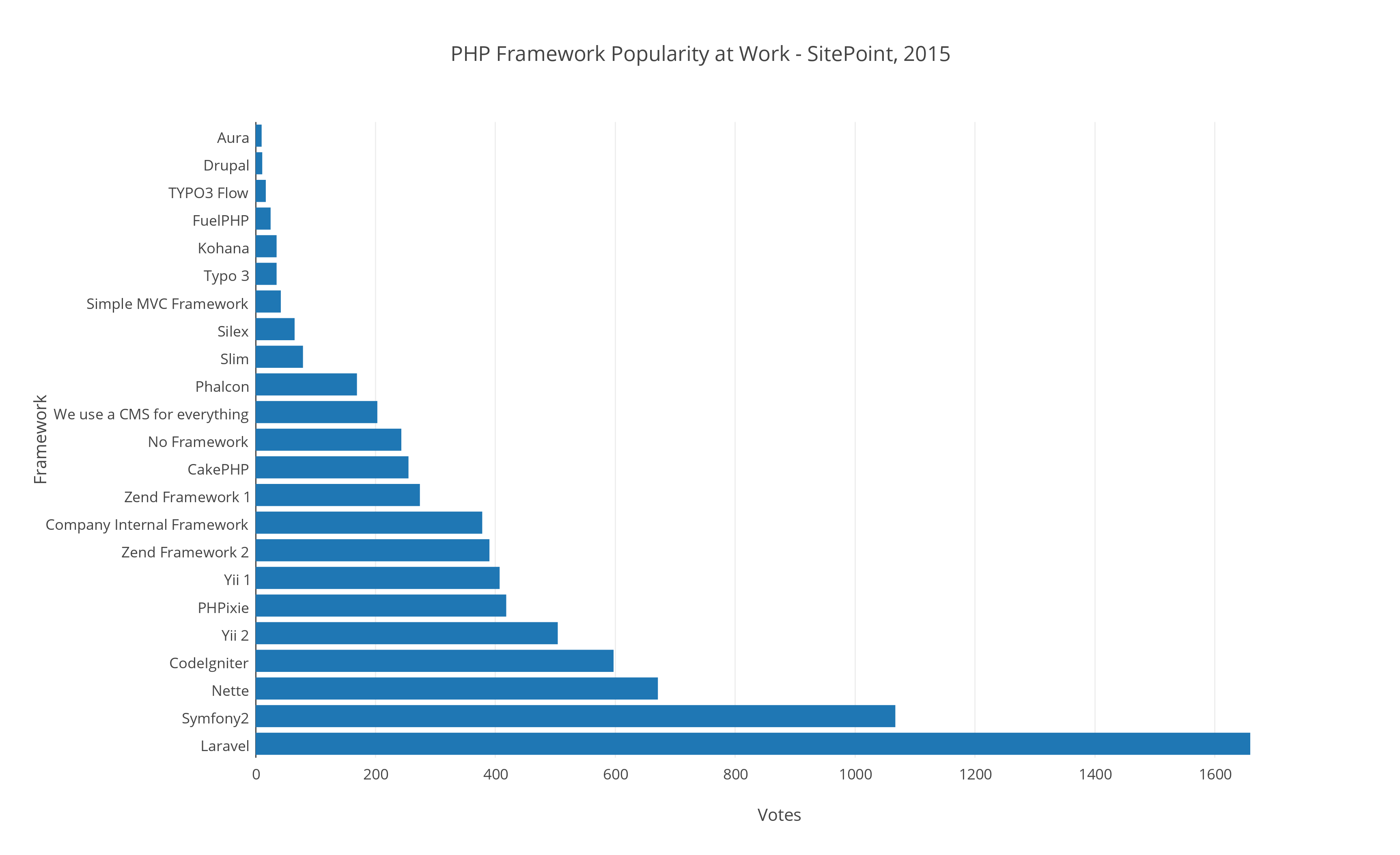 According to a March 2015 developers survey on PHP framework Laravel was listed as the most popular PHP framework of 2015, followed by Symfony2, Nette, CodeIgniter, Yii2 and others.
Laravel have more features for web applications and make easy work for authentication, sessions, routing and caching. This offer a great work on MySQL, SQL Server, Postgres, and SQLite.
2. Zend Framework (ZF): Zend is second most popular PHP framework for modern and high performing web applications. Which are used for Building blocks that can be used piece by piece with other applications or frameworks.
3. Phalcon Framework: Phalcon is a full-stack web application framework for PHP based on the model–view–controller (MVC) pattern. This framework was Originally released in 2012. It's implemented as a "C" extension offering high performance and lower resource consumption. It's available on Microsoft Windows, Mac OS X, and GNU/Linux.
4. CodeIgniter Framework: CodeIgniter is a powerful PHP framework with a very small footprint, built for developers who need a simple and elegant toolkit to create full-featured web applications.
If you want to develop a tediously large and thoroughly undocumented frameworks then you should required hire a best CodeIgniter PHP Framework developer.
5. Symfony Framework: Symfony is a PHP 5.3 full-stack web framework. It is prepared with speed and flexibility. It used to build a better and easy to maintain websites within low time.
This can be used for creating a personal blog, high traffic websites and applications as Dailymotion or Yahoo! Answers, OpenSky, eZ Publish, Drupal.
6. CakePHP Framework: CakePHP is a rapid development framework for PHP which uses commonly known design patterns like Association Data Mapping, Front Controller, and MVC. It also follows all the Model-View-Controller approach.
CakePHP uses for software engineering concepts and software design patterns, such as the Convention over configuration, Model-View-Controller, Active Record, Association Data Mapping, and Front Controller.
Contact DevTechnosys Today for Professional PHP Framework Development Sevices
Above all super six PHP frameworks which are used by top level business software developer & mobile application development companies in 2015. You can use them for creating a strong and Custom App Development.
If you want to create a web application, Mobile app and any Online portal development services, Dev Technosys offer the best Responsive web design, web development, software development, Mobile apps use through all PHP frameworks according user requirement .
Recent Post
Web Development is one of the fast-growing technique which is growing year per year. According to a survey, the online market grows b

January 18 2018

PHP stands for Hypertext Preprocessor, is a very well known and popular programming language for web development. PHP is a server-sid

January 09 2018

We all know that every business is based on unique business ideas, functionalities, and methodologies. In this digital world, a mobile app plays an im

January 04 2018

All we know these time people have very less time to manage their home, personal and business work and they want to have a person or system who can he

December 28 2017